Anonymous asked: I don't have a Twitter to ask you that way, I just saw your Twitter feed on your website and wanted you to clarify the nipple comment if you didn't mind. So is what your saying that anyone who is darker than you with big areoles, their nipples look like "burnt pepperoni's"? Cause that sounded so damn ignorant. You don't owe an explanation. I was just curious.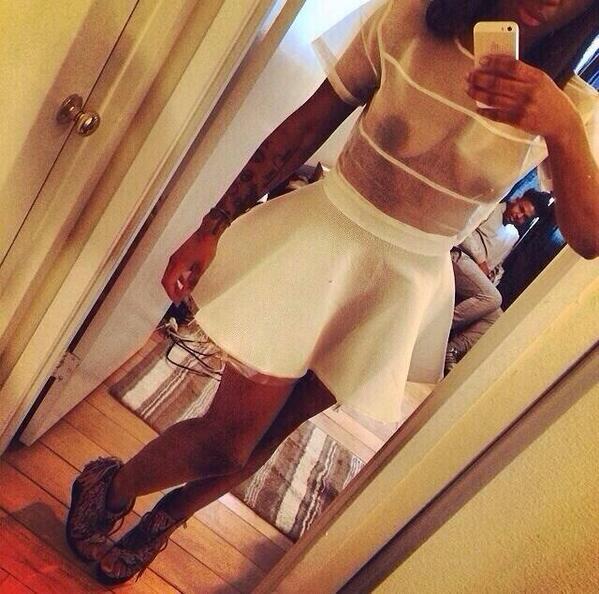 "@missodessa: I LOVE Rihanna but she got these girls out here forgetting they are not celebs nor do they have high fashion model bodies like her."
"@missodessa: keep your nipples covered ladies, esp if they look like burnt pepperonis"
Where did I imply this statement was to those ONLY "darker" than me? or did you assume that because the person that sparked the tweet just so happens to be darker than me or because I AM LIGHT? I said "ladies" meaning I'm talking to EVERYONE because you know there are people my color and lighter with exactly these type of nipples I'm speaking on. Exactly the type of nipples the person pictured has. They don't look nice, it wouldn't matter what color she was. I don't really dig the whole exposed nipples thing esp for someone on their way to "church" but it's especially tacky when your boobs and nipples aren't up to par to begin with. Not everyone has nice tits. I feel like mine are way too big to be wearing shit like that, even if I was crazy enough to do it. Don't make this a light vs dark skin thing because. IT'S NOT. It's more of a…"If you have saggy ugly boobs, don't show them"…thing.
Anonymous asked: missodessa can you post your receipt for those yummy strawberry crepes and homemade whip cream. even though its midnight i want em! lol
Ingredients
1/2

teaspoon

vegetable oil

1

cup (5 ounces)

unbleached all-purpose flour

1

teaspoon

sugar

, plus 8 teaspoons sugar for sprinkling

1/4

teaspoon

table salt

1 1/2

cups

whole milk

3

large

eggs

2

tablespoons

unsalted butter

, melted and cooled
Instructions :
Put the oil in the pan heat it on low for about 10mins then wipe out the excess oil with a paper towel. Move the heat up to medium and in a minute you can begin testing you batter on the heat by pouring a tbsp of batter into the pan. wait about 30 seconds and flip it if it brown the heat is too high and you will need to lower it. It's kinda tricky depending on the stove and pan that's why you want to test first. Everything after getting your temperature right is easy.
There's a basic recipe for whipped cream here
Anonymous asked: Really, @StellaAnnxxx did your dad rape you? Is that why ue a gross pornstar whore? All ur friends and family r gunna know.
You MUST be in the wrong inbox lol
Anonymous asked: when people "make" their own tshirts do they still use a logo branded tee? or make their own branding?
most people buy blank tee's from wholesale companies a lot of people use American Apparel T's.
when you've been swimming and water is in your ear
(via ronnietherager)
This. . this hurt

:(

but..
come back please.
(Source: better-than-kanye-bitchh, via thekmac)
Anonymous asked: Sooo I'm tryna sit that face 😏 then ride that tongue, but you playing so.....I'll wait 👀
where's all those gifs of all those reality TV chicks rolling their eyes when you need one

thank you
also appropriate
Anonymous asked: do you get hollered/mannoozled everywhere you go? (mannoozled= guys showing they are attracted to you) i made that word up lol
Sometimes but most of the times I'm pretty sure I don't look approachable (so I have been told)
Anonymous asked: I love your artwork! Would you be interested in customizing a pair of Timberlands for me?
Thank you…How would you like them customized?